Do you need some wind down time, just for you to relax, to nourish yourself in body, mind and spirit? Have you forgotten who you really are and need time and space to reconnect? Is it time to look after you?
Over seven, peaceful days at our retreat in beautiful Ubud, Bali you will have the opportunity to connect with yourself in a deeper way through yoga, meditation, reflection and guided relaxation helping replenish your body, slow your mind, nourish your spirit, and enjoy the company of like-minded people.
Take the Step to Unwind and Have an Adventure!
We have the perfect combination of activity and relaxation in the most picturesque setting in Penestanan, Ubud where you can enjoy and explore the beauty and generosity of Bali, it's landscape, culture and people.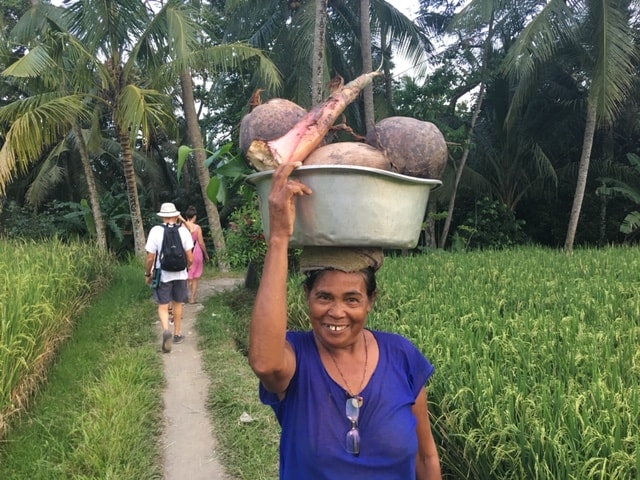 Ubud, which lies in the cool, central highlands of Bali and only about 1 hour north of Denpasar airport is the heart of Balinese art, craft and culture. There are hundreds of shops selling antiques, woodcarvings, crafts, textiles, paintings and jewellery in Ubud. You'll also find some of the best art museums in the country here. Along Ubud's main street are dozens of art studios, an excellent local craft market and galleries. Ubud is also renown for its world class restaurants and health spas. While there is busyness in Ubud, serenity, calm and peacefulness can be found only a short walk away in the rice paddies, forests and neighbouring villages.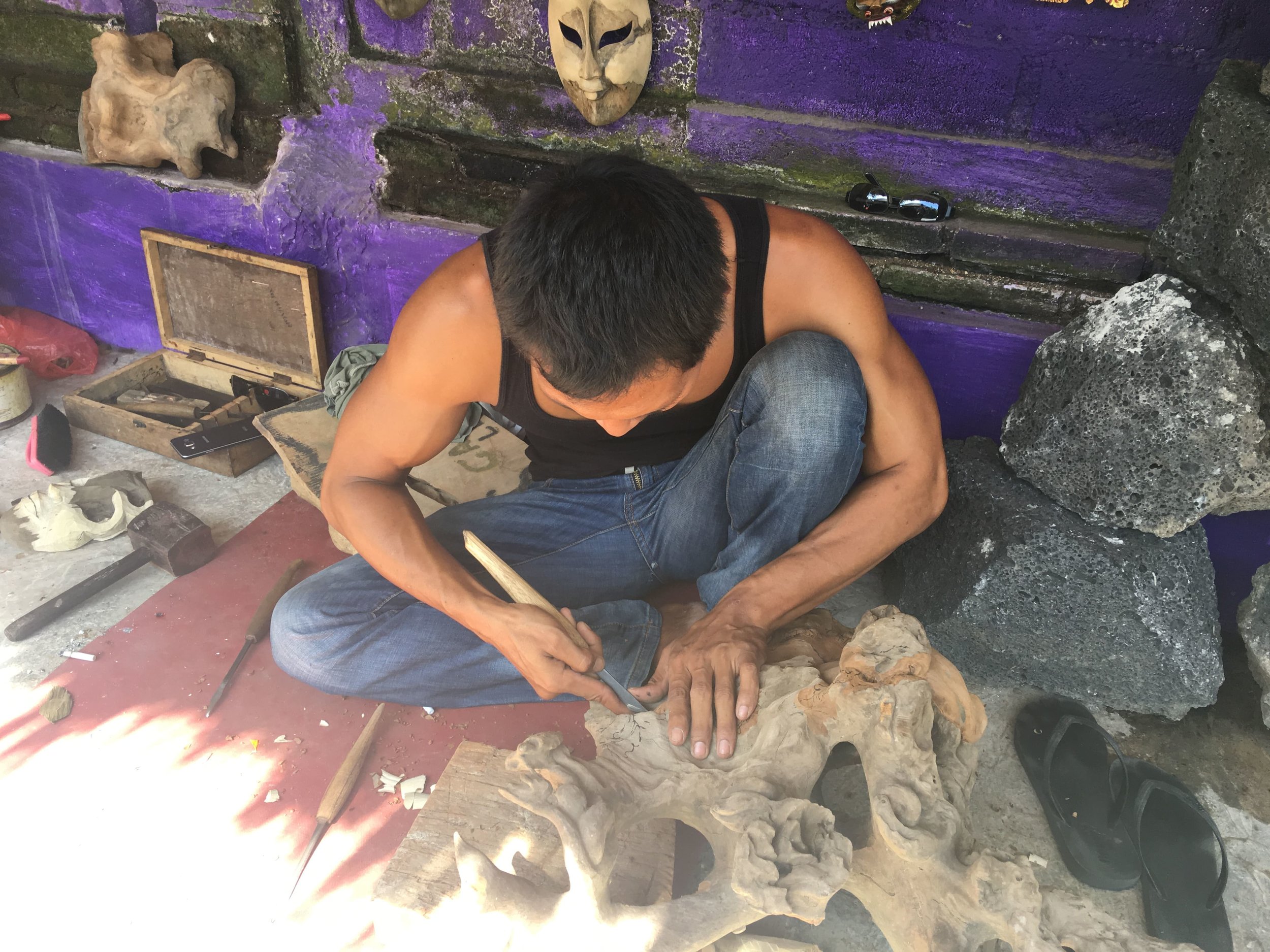 Penestanan is an artist colony specialising in crafts and wood carving and is situated by the sacred river of Campuhan as it flows through Ubud. It is a peaceful and charming village and yet it sits very close to the hustle and bustle of Ubud central.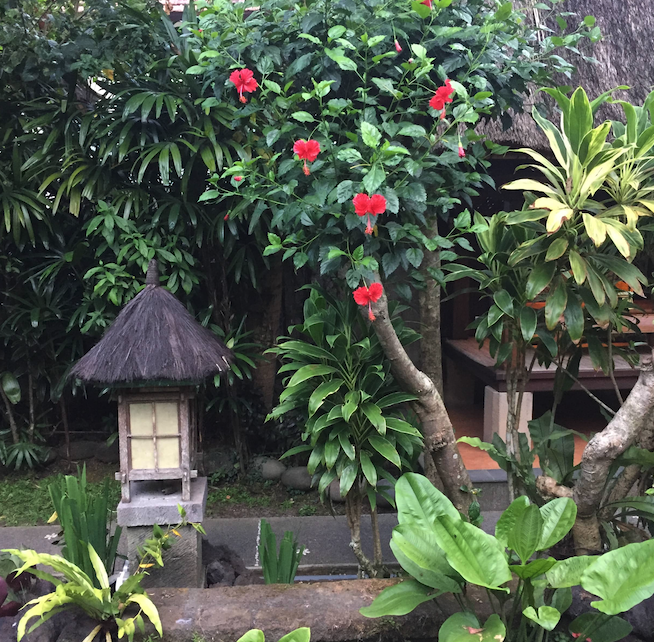 'Melati Cottages'-Nestled in a secluded part of the village of Panestanan, surrounded by lush, tropical gardens and rice terraces, you will find 'Melati Cottages' where we will host our retreat. Melati offers serenity and peacefulness with a Balinese village life atmosphere. This place has its own magic and is a truly delightful place to stay. You can enjoy spacious rooms set among gorgeous gardens, pool and rice paddies, run by a sweet Balinese family.
The Wantilan - Our yoga and meditation will be held in Melati's peaceful and exotic, open sided Wantilan which is in the complex but a little to the side and secluded from the rest of the resort. A Wantilan is a Balinese pavilion used for community activities and it will be for our exclusive use.
Our teachers - Our retreat leader, Sonja is a qualified and very experienced Physiotherapist, Yoga therapist and Yoga teacher. Sonja is especially interested in making yoga work for all different bodies and also for developing people's awareness of themselves and links between mind and body. She will be assisted by her husband, Peter who is also a qualified yoga teacher.
Your retreat day will look something like this
(with daily variation and flexibility):
Yoga and meditation- energising morning practice, asana (physical practice), pranayama (breath work) and meditation (mindfulness, loving kindness meditations, visualisations)
Suggested activity such as visit to a sound meditation and healing centre, temple, walk and massage
At one of the local cafes with views to the mountains or rice paddies perhaps and free time to relax, swim, drink coconuts, reflect or explore.
Restorative yoga and deep relaxation.
Dinner at one of the many amazing local restaurants. You can do this as individuals, small groups or all together. No one will be left out. On the first and last night of the retreat we will all go to a special restaurant.
Cost:
1 person double room (single rooms unavailable): $2100
Couple or twin share, per person (double or family sized rooms, depending on availability: $2000 pp
Deposit (non-refundable) of $800 will claim your spot. Balance is required one month before start date (before March 4, 2020)
Early bird special: Deposit(non-refundable) of $800 paid before December 4, 2019, balance paid before February 4, 2020=$100 off per person
What's included?
Pick up from Denpasar airport. (We will liase with you when you have booked your flights to arrange pick up)

Accommodation at Melati Cottages,

Daily Melati buffet breakfast.

Daily/twice daily yoga, meditation

We will help you with our local knowledge as much as possible to find your way around, choose eating, massage places and other activities. The staff at Melati are extremely helpful as well. They can also arrange a car for you if you would like to do some tripping around.
What's not included?
Flights into and out of Bali

Lunch and dinner. There are many cafes and restaurants within a five minute walk supplying healthy and delicious food. You will be able to liase with other retreat participants to have meals together and to try out the different restaurants and cafes. We will also organise a special dinner on the first night of the retreat and on the last. This will be at your cost. Meals in Bali are very inexpensive.

Extra cultural activities, massages etc

Travel to airport at the end of your stay
Other important information:
Please get travel advice from your doctor prior to travel, especially regarding immunisations.

Travel insurance is highly recommended.

We will commence the retreat at 4 pm on the first day of the retreat and we will finish at 10.30 on the final day to give time for travel to and from the retreat.

Approximate cost of meals/ drinks per day is around $60 AUD

We (Peter and I) will be at Melati Cottages for a few days before the retreat. If you would like to come a little earlier you can arrange your booking at Melati directly.

Please read the Terms & Conditions here.